Soundwave 2010....has arrived with Faith No More, HIM, AFI and loads more!
04.09.2009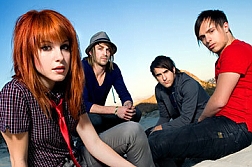 One of the 7 wonders of the ancient world, the pyramids have baffled archaeologists as to how those huge chunks of rock were assembled together some 2500 years ago. Following its most successful year, we are hoping that in years from now, folks will look at the 2010 Soundwave line-up and wonder how so much ROCK from around the world was assembled together in 5 cities across Australia.
For 2010 we are particularly proud to have enticed one of rock's all time legendary artists, FAITH NO MORE ; and one of today's most talented and intriguing bands, MY CHEMICAL ROMANCE to top the bill. Joining them will be indie legends and festival kings JANES ADDICTION, the kings of dark punk AFI and one of the hottest bands in the world, PARAMORE.
We are also thrilled to be graced by the presence of the newly reformed and legendary SUNNY DAY REAL ESTATE and the hotly anticipated return of THE GET UP KIDS and ALEXISONFIRE.
In true SOUNDWAVE fashion there will be plenty of great new bands to discover as well old and new favourites. Without further ado, we present the line-up for SOUNDWAVE 2010.
LINE UP
FAITH NO MORE
MY CHEMICAL ROMANCE
JANES ADDICTION
AFI
PARAMORE
HIM
THE WEAKERTHANS
ALEXISONFIRE
TAKING BACK SUNDAY
TRIVIUM
EAGLES OF DEATH METAL
THE GET UP KIDS
REEL BIG FISH
MESHUGGAH
ALL TIME LOW
A DAY TO REMEMBER
IT DIES TODAY
ESCAPE THE FATE
CLUTCH
ANTI FLAG
ISIS
GALLOWS
A WILHELM SCREAM
EMAROSA
ANVIL
THE DEVIL WEARS PRADA
SUNNY DAY REAL ESTATE
COMEBACK KID
THE ALMOST
DANCE GAVIN DANCE
FOUR YEAR STRONG
YOU ME AT SIX
WHITECHAPEL
THE AQUABATS
ROLO TOMASSI
BARONESS
RX BANDITS
MAXIMUM THE HORMONE
THE CREEPSHOW
VENUES AND DATES
FEBRUARY/MARCH 2010

SATURDAY 20 BRISBANE, RNA SHOWGROUNDS
SUNDAY 21 SYDNEY, EASTERN CREEK RACEWAY
FRIDAY 26 MELBOURNE, SHOWGROUNDS
SATURDAY 27 ADELAIDE, BONYTHON PARK
MONDAY 1 PERTH, STEEL BLUE OVAL

TICKETS
Early Bird Tickets SOLD OUT!
General public tickets go on sale from Friday 18 September 9am through Oztix & Ticketek.
04.09.2009, 11:18 von Tobias Haslinger



Kommentare
via Facebook
| britishrock
Soundwave
mit Faith No More im Line-Up in Sydney