THE CRANBERRIES REUNION AND TOUR IN NOVEMBER
01.09.2009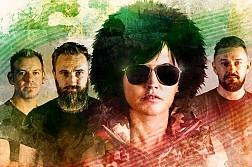 Dolores O'Riordan and the original members of The Cranberries have announced that they will reform for the first time in nearly seven years for a live tour. She revealed that The Cranberries will be reuniting and embarking on a tour starting in November of this year.
The band will be playing both Cranberries songs and songs from her new album "No Baggage" which was just released in the USA two weeks ago, and in Europe last week.
"I've decided to reunite with my former band members in The Cranberries and we will be writing new songs and performing tracks off my new album as well as our greatest hits during the shows. I'd love to see you out there." O'Riordan stated. Guitarist and co-songwriter Noel Hogan offered "Over the last few years, each member of the band has had time to work on different projects and learn so much from their experience. Now the time is right for The Cranberries to bring all of this together and move forward."
Led by "Linger," The Cranberries debut album Everybody Else Is Doing It, hit #1 in Britain. Follow-up No Need to Argue cemented the group's popularity via such popular tracks as "Zombie," "Ridiculous Thoughts," and "Ode to My Family," ultimately being certified 7x Platinum in the U.S. and 5x platinum in Europe (hitting # 1 in Germany, Austria, and Australia, and # 2 in the U.K.). The Cranberries had four top 20 Billboard albums, 8 hit singles, and worldwide sales of over 40 million records. The Cranberries have performed on several television shows such as The Tonight Show with Jay Leno, and The Late Show with David Letterman, and appeared on many magazine covers including Rolling Stone and Spin Magazine.
In January, O'Riordan played a set at Dublin's Trinity College with band members and brothers Noel and Mike Hogan to commemorate her being made an Honorary Patron of Trinity's Philosophical Society. The performance was the first time the band members had seen each other since 2003. Never officially broken up, the band instead has been on hiatus, and being in the same room and playing music together for the first time made them realize how much they had missed each other. Touring will begin at the end of the year in North America and make its way to Europe in early 2010 with dates announced shortly.
Dolores O'Riordan has also released her solo album, No Baggage, today via Zoe/Rounder Records. With No Baggage, O'Riordan's unforgettable, distinguished voice is back and better than ever. She co-produced and wrote all of the tracks on the album with Ontario- based Dan Brodbeck, resulting in a bright, clean sound that finds the singer's astoundingly emotive voice front and center, be it on the gorgeous piano ballad "Lunatic," the forthright, rocking track "Be Careful," or the infectious, driving lead single, "The Journey."
"I probably haven't worn my heart on my sleeve like this since the second Cranberries album (1994's No Need To Argue)," she says. "It's at times very confessional and dealing with my true emotions. Everyone, through their experiences or their background, has had terrible moments where they think they can't handle it. With this record I'm trying to show that, no matter how bad things may seem, it's not really that bad in the big picture." says O'Riordan.
The Cranberries are Dolores O'Riordan, Noel Hogan, Mike Hogan, and Fergal Lawler.
Video
The Cranberries with one of their greatest hits - Zombie
Dolores O'Riordan - The Journey (new song)
The Cranberries live - Tour Germany 2010
02.03.2010, Köln (Palladium)
27.03.2010, Berlin (Columbiahalle)
01.09.2009, 21:05 von Tobias Haslinger



Kommentare
via Facebook
| britishrock