Rudimental at INmusic festival!
27.05.2015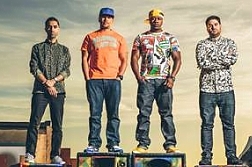 Rudimental and it's full colorful live set are coming to shake up INmusic festival! With their spectacular and energetic show, this English drum & bass band will make sure that the audience experience a great atmosphere and unforgettable moments. Their performances include unique audience interaction, great combination of drum & bass, soul, funk and pop elements and are considered a pure energy boost.
They have performed at some of the biggest festivals word-wide and this summer, on June 23rd, they will energize INmusic's main stage! Rudimental is the perfect band to join the bill of the celebratory 10th edition of INmusic festival!
The members of the band, Piers Agget, Amir Amor, Kesi Dryden i DJ Locksmith (Leon Rolle) are friends from an early age – they have lived in the same street and went to the same school. Now, their long-lasting friendship and love for music have grown and developed into a successful music project. After releasing their debut album, music awards and nominations have started pouring in one after the other. Critically acclaimed and praised by the media alike, Rudimental also have a huge and dedicated fan base and have achieved multiple platinum record sales in countries all over the world. The single Feel The Love has launched them to the music top while their highly acclaimed videos are extremely popular online. The new album called "We The Generation" will be released in September this year.
With the combination of their talents, numeorus nominations and praises, as well as their energetic live performances, it is clear that Rudimental's long list of recent achievements is anything but complete. Leon from the band states: "We're thankful for that, but we also know we've still got a long way to go." On their way ahead is also INmusic festival, where they will perfectly fit in with the jubilee celebrations. The audience can expect a great time and their arms raised high!
Due to health reasons and a compulsory medical treatment for Florence Welch, Florence + the Machine have postponed their performance for INmusic festival 2016. Wanting to provide the best for INmusic festival's audience, the organizers of INmusic have managed to book one of the most wanted festival artist at this moment – Rudimental, in a very limited time frame. Rudimental will perform on the main stage of INmusic festival on Tuesday, June 23rd 2015. 10th INmusic, with it's lavish line up is set to be the best edition of the festival so far with performers ready to rock your summer – Rudimental (live), FFS (Franz Ferdinand & Sparks), Placebo, Paolo Nutini, Of Monsters and Men, La Roux, Black Rebel Motorcycle Club, Death Cab For Cutie, Future Islands, Frank Turner and the Sleeping Souls, Eagles of Death Metal, ANTEMASQUE, Mike Skinner, Kate Tempest, Aziza Brahim, Batida, The Mirror Trap, Katalina Kicks, Rambo Amadeus, Halka and many more.
INmusic will take place from June 22nd to 24th 2015 in Zagreb (Jarun lake), Croatia with the support of Zagreb Brewery (powered by Ožujsko pivo), and OTP Bank (which will provide cashless and contactless payment at the festival). Festival ticket for a three days is 47€, daily ticket is 40€ and camping ticket valid for seven days is 27€. Tickets can be purchased through INmusic webshop.
More info at
www.inmusicfestival.com
27.05.2015, 14:34 von Tobias Haslinger



Kommentare
via Facebook
| britishrock
INmusic
mit Placebo im Line-Up in Zagreb