Clueso is coming – concerts confirmed
09.08.2014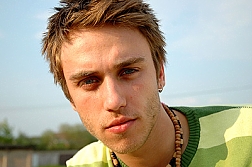 Clueso fans in Austria are getting ready for three concerts by the German singer. More than three years have passed that the versatile artist from Erfurt released an album. Now Clueso has not only announced several live dates – he is also at the ready to get back on the road.
At the end of October, Clueso will present his new studio album "Stadtrandlichter" (out on 19 September) in Austria. Clueso (www.clueso.de) will perform in Luxembourg and Switzerland but also at the Posthof in Linz, Upper Austria, on 25 October. The following night, on National Day, the 34-year-old is going to perform some of the 14 new songs from his new record as well as popular old tunes in Graz (Orpheum), the capital of the province of Styria. And on 29 October, Clueso and his band will rock the Arena in federal capital Vienna. These concert dates have been announced only recently. The news followed a lengthy hiatus during which the singer wrote new lyrics, took photographs and played some gigs in front of small crowds. Now he is looking forward to present his new tracks on big stages across Europe. When presenting details regarding "Stadtrandlichter" and the tour dates, Clueso stressed that he not only wrote but also produced all the songs himself.
"Stadtrandlichter" is just the next addition to the singer's impressive oeuvre. The former Herbert Grönemeyer support act released an EP called "Clüsolo" already in 1998. Acclaimed albums like "Gute Musik" (2004) and "An und für sich" (2011) followed. Furthermore, his CV contains exciting collaborations with Udo Lindenberg, Max Herre and other prestigious artists.
News that Clueso concerts came after it emerged that Selig will roll into Vienna shortly. The German rockers will perform at the Arena Vienna on 19 October. The Posthof Linz programme for this autumn is impressive too. Kabarett artists Severin Gröbner (16 September) and Thomas Maurer (23 September) will perform at the venue as well as Irish singer-songwriter Wallis Bird (12 October) and Maximo Park from Newcastle (18 October).
09.08.2014, 10:05 von T. Hochwarter



Kommentare
via Facebook
| britishrock