SZIGET plus Blink-182, Casper, Jimmy Eat World...
29.04.2014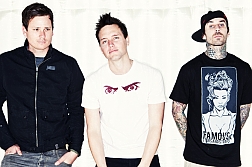 More acts join the party on the Island of Freedom at this year's Sziget Festival - the ultimate festival holiday experience in the beautiful city of Budapest.
Blink-182 headline Day -1 at Sziget Festival!
The long-awaited Sziget debut of Blink-182 is finally happening! 11th August (Day -1) is the date. Other new additions to the 2014 Sziget line-up include Cee Lo Green and Jimmy Eat World, plus Casper, A Day To Remember and Fedde le Grand. Limited numbers of reduced price Weekly Passes are still available until 30th April!
After years of waiting, one of the most popular American pop-punk bands,
Blink-182
will finally hit the stage at Sziget Festival this year. Looking back on a career of more than 20 years this trio from California has sold millions of records and has countless fans all over the globe. After a short hiatus the band is back on the road and as rocking as ever. The people of Sziget will finally have a chance to party to the biggest punk anthems of the late 90s and early 2000s, such as All The Small Things, First Date, I Miss You, Stay Together For The Kids or The Rock Show.
Five-time Grammy winner
Cee Lo Green
is one of the most charismatic male performers of our time, an iconic songwriter with a unique voice, a creative producer and a movie star. His superpowers come from mixing hip-hop with soul elements to create sexy and modern r&b. His tunes took over the charts and built up a fanbase of millions. Sziget Main Stage will feel like home for him!
Jimmy Eat World
started their career in Mesa, Arizona and quickly became popular with their catchy rock tunes. Their most successful record, Bleed American was released in 2001 and featured multiple hits, among them their most well known song, The Middle. The band released their 8th studio record, Damage last year and will be rocking the stage at Sziget.
Benjamin Griffey, aka
Casper
is a talented and popular German rapper, singer and lyricist. The secret to his engaging style lies in its diversity. He doesn't care about any borders - dividing different musical genres from each other - and mixes his influences freely. You will find anything at his gig, from old-school hip-hop to rock, all coupled with highly critical and thoughtful lyrics.
A Day To Remember
is a constant figure at all international festivals specialized on the heavy genres. Their music is a mixture of hard driving metalcore and pop-punk. Coupled with their energetic stage performance they will squeeze all reserves from your body by the time their show is finished. The band has released five albums so far, they will be presenting their latest effort Common Courtesy at Sziget this year.
Last, but definitely not least:
Fedde le Grand
will represent the Dutch e-music scene right at Sziget! The award-winning musician and producer is one of the most famous DJs in The Netherlands and also making his name internationally. For many years he's been a fixture on DJ Mag's Top 100, while his tracks and remixes are immensely popular on the world wide web and beyond.
29.04.2014, 11:00 von Tobias Haslinger



Kommentare
via Facebook
| britishrock
Sziget
mit Queens Of The Stone Age im Line-Up in Budapest