Arctic Monkeys at VOLT Festival!
04.03.2014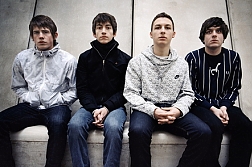 The winner of this year's Brit Awards, also regarded as the band of the year by all relevant music forums, Arctic Monkeys will be performing at this year's VOLT Festival! Not being in Europe during Sziget Festival the band agreed to please their fans in the region by playing a massive gig on 6 July (Sunday), right after the regular days of VOLT. Tickets go on sale this Friday.
Tens of thousands of people are expected to Sopron for a show that will most probably put a spectacular crown on VOLT Festival's line-up. This will also make the event one day longer and everybody with a festival pass will be able to purchase tickets for the additional Arctic Monkeys day at a discounted price. Tickets will be available from Friday, March 7th at 12AM (CET).
The band has been awarded as best British Group for three times now, including this year's victory at the Brit Awards. The most prestigious music magazines like NME and Q Magazine have unanimously voted them the best live band and best British band last year. They have five million facebook fans. According to Chris Martin of Coldplay they are simply the best band in the world and their fanbase includes Matt Bellamy (Muse), Lars Ulrich (Metallica) and even Bono himself.
Károly Gerendai, Head of Sziget Cultural Management, said: "It often happens that the big international stars are not touring in Europe at the time we would like to invite them to a given event. Since our festival portfolio is basically covering the entire summer, in these cases we can offer them VOLT or Balaton Sound instead of Sziget, or the other way round. Of course a band with the caliber of the Arctic Monkeys is primarily an act we try to get for Sziget, but they are not available in August this year, so – to make sure we keep the fans of the region happy – we went for the compromise of hosting them at VOLT."
VOLT has been offering a very strong international line-up for years now, but it is without a precedent that one of the most sought after bands of the world plays in Sopron. Zoltán Fülöp, organizer of VOLT Festival said: "In the last couple of years we continuously raised the bar regarding our line-up, as it is always a great challenge to fulfill the expectations of our audience. Normally we have to keep the headliner acts on a high, but still realistic level, because VOLT ticket prices are relatively cheap and also the festival area is not as huge as in the case of Sziget, still we just couldn't miss the chance of hosting Arctic Monkeys in 2014… and so we decided to go for it."
VOLT will be longer!
As usual, the 22nd VOLT Festival will open its gates on Tuesday, 1st July, but in 2014 the fun lasts longer. Instead of staying until Sunday, the VOLT fans can prolong their festival experience until Monday morning.
Norbert Lobenwein, organizer of VOLT Festival added: "The Arctic Monkeys tour calendar for July was quickly full, as they were confirmed for the biggest festivals. We could only trust in their free Sunday. We offered them to prolong VOLT by one day what they also liked, so that's how we got to the final agreement. We also had to think through the realization of such a super-production and agreed that both finally and technically a separate day is needed." Lobenwein also said that they will work on a full festival day experience for those coming on Sunday: more stages will operate, so - besides the Arctic Monkeys gig - the audience can also expect a full day of festival fun.
Tickets available from Friday!
Ticket sales will start Friday, 7th March, 12 am (CET) in Hungary and several European countries. The Sunday ticket in the early bird period will cost 47€, starting from 15th April 50€ and from 17th June 53€. Those who already have a VOLT Festival pass can buy a discounted day ticket for Sunday: 30€ until 15th April, 33€ until 17th June and 37€ afterwards and on the spot. In addition, starting from 7th March, prolonged passes can be bought for VOLT, with Sunday included. Moreover, there will be passes available for three days (Friday, Saturday, Sunday) as well. For more information about tickets, please check www.voltfest.com
04.03.2014, 12:57 von Tobias Haslinger



Kommentare
via Facebook
| britishrock
Volt
mit Thirty Seconds To Mars im Line-Up in Sopron