Sziget Festival: New Names for 2014 Line Up
11.02.2014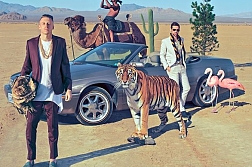 The organisers of Sziget announce the second wave of all-star artists set to perform at the 2014 edition including; Macklemore & Ryan Lewis, Skrillex, Jake Bugg and London Grammar. Taking place on The Island of Freedom in the heart of Budapest from 11-18 August, Sziget is known for diverse and colorful programs with the newly confirmed acts representing all genres, perfect for music lovers of all styles.
Joining the already announced
Queens of the Stone Age, Placebo, Klaxons, Stromae, Calvin Harris, Imagine Dragons, Bastille
the full list of new names are...
Macklemore & Ryan Lewis
are one of the most celebrated and shiniest stars on the hip-hop map of the United States. Their charismatic music is followed by millions of fans and this year their work has been sealed with four Grammy Awards. They received the award for 'Best New Artist', 'Best Rap Performance', 'Best Rap Album' and'Thrift Shop' received the award for 'Best Rap Song'.
Skrillex
is one of the most well-known electronic musician today. He will definitely make everyone crazy with his very exciting and massive sounds.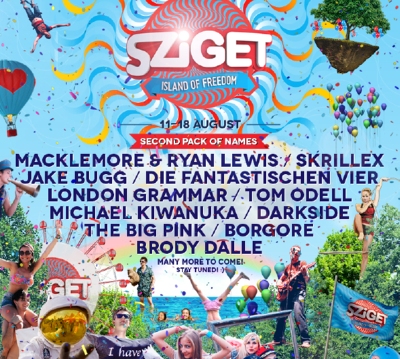 Extraordinary talent British singer-songwriter
Jake Bugg
, will also perform at the 'Island of Freedom' with his direct, honest and unique folk rock sounds.
Die Fantastischen Vier
are also coming to Sziget. The German rap and hip-hop quartet will tour with their new album Rekord. Electro-trip-hop trio from Nottingham, London Grammar, has an emotional and melancholic feeling combined with great lyrics and a unique sound.
Tom Odell
has a passionate, romantic and irresistible voice merged together with great talent. Arriving from Southern-England, the twenty-three year old singer-songwriter will hit the stage of Sziget this summer. Also coming from the UK,
Michael Kiwanuka
, will make his performance memorable with his sophisticated, characteristic, sensitive soul music with some folk and jazz tunes. His debut album, Home Again, has been nominated for Mercury Award in 2013.
Two performers with a unique perspective in the world of electronic music,
Darkside
, will be a real exciting act of this year's Sziget. They will not only address e-music lovers, but also those fancying jazz. It's hard to categorize the music of
The Big Pink
, but it is simultaneously intimate, unsettling and noisy. Check out for yourself!
Borgore is a real EDM-hooligan, DJ and producer from Israel, who is known by everyone in the international dubstep network. True party person, who focuses on massive drum bases and heavy metal sounds what he just calls gorestep. Coming from Australia, Brody Dalle, wanted to do music similar to Nirvana, the Hole or PJ Harvey. Now she is ready to conduct a party anywhere in the world. She will perform at Sziget on August 12th, Day 0, the same day her husband, Josh Homme will play with Queens of the Stone Age. Stay tuned for more names being announced soon!
11.02.2014, 12:02 von Tobias Haslinger



Kommentare
via Facebook
| britishrock
Sziget
mit Queens Of The Stone Age im Line-Up in Budapest