Zeronic video makes New York Film Festival list
11.03.2009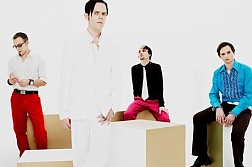 The new video by Austrian indie-pop band Zeronic will be part of the program at the prestigious New York International Independent Film & Video Festival. The video for the single "The Price Of Zeitgeist" of the Vienna-based three-man band's new record has been accepted by the festival's jury and will be presented in New York on 20 March.
The band headed by lead singer and songwriter Mik Tanczos will fly over the pond to present itself to the audience.
Zeronic are regarded as one of Austria's most hopeful young innovative acts as far as intelligent pop music with English lyrics are concerned. They performed as support act for big acts such as Queens of the Stone Age or Bryan Adams. However, the group lost their passion for it after extensive touring for several years. Now, listening to their third album, it seems they got it back - but they lost two band members on the way when it came to whether to chose rock music or a 9-to-5 life.
"The Price Of Zeitgeist" is a fresh, straight-forward pop record that has little resemblance to older, darker and more melancholic tunes such as "If you think you are" or "Goodbye summer".
Zeronic's new video - "The Price Of Zeitgeist"
For more information on the band and tour dates, see www.zeronic.net.
11.03.2009, 13:35 von T. Hochwarter



Kommentare
via Facebook
| britishrock