Sepultura rock the city
26.07.2011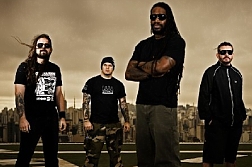 Sepultura delivered a stunning show in Vienna last night (Mon). Max and Igor Cavalera, the founding fathers of the legendary Brazilian heavy metal act, may have left the band years ago. However, Sepultura proved they have lost none of their live appeal as they delighted their Austrian fans at the Szene club in Vienna-Simmering yesterday.
The four-member band fronted by Derrick Green performed both classic tracks like "Refuse/Resist" and songs from their most recent recordings including the title track of their new album, "Kairos."
The gig took place just weeks before the Austrian Band Contest will be staged at the Szene (26 & 27 August, 2 & 3 August).
Swiss metal band
Samael
will rock the Szene on 5 August.
Meanwhile, it emerged that As I Lay Dying, NOFX and Gentleman will headline this year's
Picture On festival
in Bildein, Burgenland. The three-day event, which starts on 11 August, also features Therapy?, Ignite, K's Choice, Thirteen Days and Wallis Bird.
Leningrad Cowboys
will perform at the season opening in skiing hotspot Obertauern, Salzburg, on 26 November and
Scorpions
will rock the Stadthalle in Vienna on 29 November.
Anajo
will come to Vienna to play at the Chelsea pub and concert venue on 3 November before
Wishbone Ash
perform in the city next year (Reigen club, 5 February).
FM4 Frequency festival
, one of the most popular music festivals in austria, starts on 18 August. The fantastic line-up of the three-day event includes Foo Fighters, Kasabian, The Chemical Brothers, Dropkick Murphys, Interpol, The Kooks, Kaiser Chiefs, Feeder, Chase And Status live, Seeed, Apocalyptica, K's Choice, Beady Eye, Good Charlotte, Panic! At The Disco, Simple Plan, Jimmy Eat World, Elbow, Samy Deluxe, Hurts, Moonbootica, John Digweed, IAMX, The National, Two Door Cinema Club, Rise Against, Crystal Fighters, Boys Noize, The View, Friska Viljor, The Vaccines, Kele, Carl Barat, Clueso & Band, Jochen Distelmeyer, Deichkind, The Ting Tings, Anna Calvi, The Kills, The Rifles and many more and the event takes place in St. Pölten, about 70km from vienna.
26.07.2011, 16:16 von M. Tanki



Kommentare
via Facebook
| britishrock