45 Euro. Gorillaz, The Prodigy, Serj Tankian for this year's Spirit Of Burgas Beach Festival
27.04.2010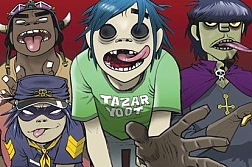 Now in its third year SPIRIT of Burgas is the rising star of Eastern European festival scene set against the beautiful backdrop of Bulgaria's Back Sea Coast. Taking place from 13th-15th August on the picture-perfect white sands of the city's central beach, SPIRIT will play host to some of the finest local and international artists.
Including the eagerly anticipated return of
The Prodigy
plus
Gorillaz Sound System
(DVJ),
Serj Tankian, Apollo 440, DJ Shadow
and
Andy C
who will all perform in the Bulgaria for the first time with many more names still to be announced.
Launched in 2008, SPIRIT of Burgas was the first event of its kind in the country offering a variety of stages and diverse range of artists covering all genres of music. The festival has continued to grow each year and was nominated for 'Best European Festival' at the UK Festival Awards in 2008 and for the 'Best Overseas Festival' category in 2009. In the same year The Times named SPIRIT as one of the Top 20 European Music Festivals and a program about the festival was broadcast across the MTV European Network in 16 countries. In 2010 the festival was also shortlisted for the 'Best Medium Sized Festival' category at the inaugural European Festival Awards in January 2010.
This years event will feature over 100 acts across 7 stages, showcasing the best local and regional artists alongside top international acts. And what better location to experience it than Burgas city beach, with stunning views of the Black Sea coastline, stretching over 20km. No mud, rain or cold - its sun, sea and sand all the way!
Kicking off proceedings on Friday will be the mighty bassline sounds of The Prodigy and DJ Andy C and MC (Ram Records // UK), followed by Apollo 440 and DJ Shadow on Saturday and Sunday's finale featuring the multi-sense experience of the Gorillaz Sound System (DVJ), Serj Tankian of System of a Down fame.
The City's desire to embrace contemporary culture and the arts on its stunning coastal location makes Burgas the perfect location for the festival. Burgas is the country's fourth largest city being home to 250,000 residents and in the summer months the city swells to around 500,000 as the unique combination of sea, sun and nature make Burgas a favourite destination for holiday makers.
World famous beer brand Beck's will once again be the main partner of SPIRIT of Burgas this year. Supporting musical events is very important to the brand and it has its own music concept - Beck'sperience, which traditionally supports the best worldwide and Bulgarian names in music. By making events like SPIRIT of Burgas possible, the brand quenches the thirst of its fans not only for the first quality beer, but also for musical events on a world-wide level. Beck's is produced in Bulgaria by Kamenitza AD, licensed by German brewery Beck Braueråi & Co KG, Bremen.
Tickets:
Early Bird Special (available until 14th of May):
Three day pass - 99 Levs (45 euro)
Limited availability - once they're gone they're gone!
Presales:
One day pass - 50 levs (25 euro)
Three day pass - 120 levs (60 euro)
Campsite three day pass - 30 Levs (15 euro)
Sales at the door:
One day pass - 60 levs (30 euro)
Three day pass - 140 levs (70 euro)

Tickets are available from Eventim.bg online and outlets
Festival Campsite:
The introduction of the festival campsite was such a success last year that it will be bigger and better for 2010. Located on the festival site, with stunning views out across the Black Sea, you will be minutes from all the action, featuring a 24 hour food and entertainment field, showers and personal item lock ups. Check the website for further details.
www.spiritofburgas.com
Other Accommodation;
The city has many hotels and private lodgings and two big camping sites close by. While some hotels offer top-quality service at high prices, cheaper accommodation can be found in small private hotels in the suburbs. You can also rent apartments at moderate prices. We will be updating the website with accommodation partners very soon.

How to get there:
By Plane - The city of Burgas is 15 mins by car from Burgas airport. Wizz Air flies direct from London Luton and Monarch Airlines fly direct from Manchester. There are also many charter flights during the summer season with Balkan Holidays. Burgas Airport also operates regular flights to Sofia every day during the summer season.
27.04.2010, 15:23 von M. Tanki



Kommentare
via Facebook
| britishrock