Muse to headline Frequency Festival
11.03.2010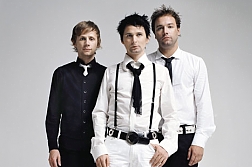 British rock superstars Muse will head the bill at this year's Frequency Festival, it was announced today (Thurs). Organisers said they had signed the award-winning trio to perform at the open air event taking place at St. Pölten's Green Park from 19 to 21 August.
English rock band Skunk Anansie, who reformed last year, will also perform at the Frequency Festival, which took place at the Salzburg ring racing track between 2002 and 2008.
Other additions to the line-up are German indie-pop group Wir Sind Helden, American punk band Bad Religion and Canadian alternative rock group Billy Talent.
German punk legends Die Toten Hosen were revealed as co-headliners a few weeks ago.
Tickets for the festival are on sale at
www.oeticket.com
,
Musicticket
(Festivalpasses 129.00 EUR) and other outlets.
Price-Performance ratio

GOOD
Line Up
Muse, Die Toten Hosen, Bad Religion, Skunk Anansie, NOFX, Wir Sind Helden, Billy Talent, Shout Out Louds, The Specials, Portugal. The Man, Get Well Soon, Mumford & Sons, White Lies, Jan Delay & Disko No1, Fettes Brot, Zoot Woman, The Gaslight Anthem, La Roux, Turntablerocker, Paul Kalkbrenner, Tiefschwarz, Schlachthofbronx, The Asteroids Galaxy Tour, Wallis Bird, John Digweed, Crazy Sonic and Pola Riot
6.7/10
Headline Ranking
Genres Frequency Festival
Rock ......20%
Punk ......14.29%
Alternative ......14.29%
Hip Hop ......5.71%
Electronic ......5.71%
Indie ......5.71%
Folk ......5.71%
Soul ......5.71%
Line Up international
Germany......36.84%
Great Britain......31.58%
USA......21.05%
Sweden......5.26%
Canada......5.26%
Links
Review Frequency 2009
(Kasabian, Jet, Heather Nova, Jarvis Cocker, Mando Diao...)
Review Frequency 2007
(Snow Patrol, Kaiser Chiefs, Billy Talent, Die Ärzte...)
Review Frequency 2006
(Morrissey, Kaiser Chiefs, Franz Ferdinand, The Prodigy...)
Review Frequency 2005
(Oasis, Foo Fighters, Weezer, Queens Of The Stone Age...)
11.03.2010, 12:46 von M. Tanki



Kommentare
via Facebook
| britishrock