Black Eyed Peas, Cypress Hill and Papa Roach coming to VOLT Festival!
14.02.2019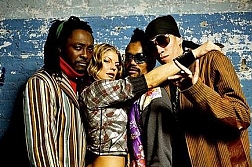 Sopron awaits festival-goers from Hungary and around Europe between June 26-29, with music legends and current favorites including the Black Eyed Peas, Papa Roach, Cypress Hill, Martin Solveig, and Jan Blomqvist.
Perhaps mainstream hip-hop's most legendary band, the Black Eyed Peas will take over VOLT's stage to promote their new album along with performing everyone's favorite hits live. VOLT's opening day will be a real rock festival with acts from bands such as Cypress Hill, Papa Roach, and Amaranthe along with the already announced Slipknot. On Thursday, Ugly Kid Joe will take the stage for the first time playing a combination of hard rock, funk, rap and thrash music.
Friday is bound to be a full house in Sopron with one of electro-pop music's favorites, Jan Blomqvist, who is arriving with his full band. The Austrian duo Kruder & Dorfmeister will also perform at the festival and so will the Kollektiv Turmstrasse duo. Drum & bass lovers can rejoice as the Bladerunnaz team, who have been an important part of VOLT since the beginning, will be celebrating their 20th birthday there. DJ Friction and The Prototypes will also join the celebration, with Habstrakt making an appearance that evening as part of the Next Level night. Two favorites, Nouvelle Vague and DelaDap will also be returning to VOLT.
Full International Line-Up
Slipknot
Black Eyed Peas
Slash
Parov Stelar
Papa Roach
Cypress Hill
LP
Robin Schulz
Martin Solveig
Lost Frequencies
Jan Blomqvist
Kruder & Dorfmeister
Kollektiv Turmstrasse
Nouvelle Vague
Deladap
Ugly Kid Joe
Amaranthe
Next Level pres: Habstrakt
Bladerunnaz 20: Friction + The Protpesoty
...and many more Hungarian acts!
14.02.2019, 19:42 von Tobias Haslinger



Kommentare
via Facebook
| britishrock
Volt
mit Slash im Line-Up in Sopron