Reviews
Interviews
Papa Roach live in Bologna
01.07.2019
Papa Roach have caused pure pandemonium in Bologna as the nu metal veterans put in a thrilling performance – despite some setlist and sound controversy.
Scheduled to perform at Estragon Club the next day – a rather inhospitable tent on the outskirts of the Italian city – the band published a photo showing them putting the finishing touches to an unplugged interpretation of some part of their oeuvre. However, the noughties hitmakers abstained from playing a laid-back version of any of their ballads or rock tunes. Instead, singer Jacoby Shaddix commemorated late Linkin Park frontman Chester Bennington and deceased Soundgarden singer Chris Cornell before launching straight into an electrifying interpretation of The Prodigy's "Firestarter".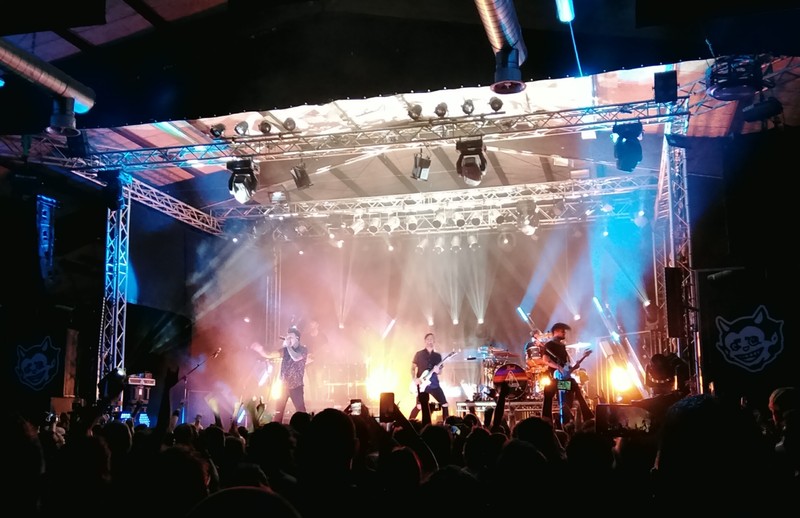 Papa Roach kicked off the show with the title track of their new album, "Who do you trust?". The record was met with mixed reviews due to the band's sudden focus on pop. Continuing with "Between Angels and Insects" and "Getting away with Murder", guitarist Jerry Horton and his bandmates played mediocre new songs like "Elevate" and "Not the only one" as the outstanding new tracks "The Ending" and "On Top of the World" have not made the cut.
Founded in Vacaville, California, in 1993, the battle-hardened four-piece – whose song "Last Resort" propelled them to global stardom back in 2000 – might reach broader audiences with sing-along songs such as "Feels like Home". But "Who do you trust?" will eventually turn out to be more hype than substance – in contrast to their gripping hard rock albums "The Connection", "Crooked Teeth" and the dramatically undervalued "F.E.A.R."


"Last Resort" and "Born for Greatness" sealed a sweaty and intense night overshadowed by the horrific acoustics of a venue utterly unfit to host internationally celebrated artists like Papa Roach.

by Thomas Hochwarter

01.07.2019, 20:45 von M. Tanki



Kommentare
via Facebook
| britishrock