Reviews
Interviews
195.000 people did party at EXIT Festival 2016
21.08.2016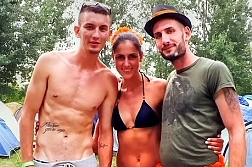 EXIT belongs to that group of festivals which, regardless of their line-ups, never fail to bring you fantastic party and fun time. This edition wasn't an exception, either. The organizers have fulfilled their intention and really created a magical experience for all visitors. Total of 195 000 people passed through the gates of Exit over four festival days and enjoyed the music and a good time on almost 20 stages.
The biggest crowd was on Sunday, the last day of EXIT, when record for daily visits was broken, with 55,000 people entered the festival area. The main reason for this were
The Prodigy
, English group who have pointed out on numerous occasions that EXIT is their favorite festival . This was their third appearance in Novi Sad, and once again they managed to make the audience completely crazy . All present were dancing like there's no tomorrow, while well-known beats of the tracks like "Breathe", "Firestarter " or "Omen " thundered from Main stage. Torches, mosh-pits, positive vibrations and surreal energy dominated the place. No doubt trio from The Prodigy, as well as all visitors will remember this show forever. Before them,
Wiz Khalifa
owned the stage and succeeded to throw a party with his rap bangers like "Black & Yellow", "Young Wild and Free" and "We Dem Boyz", while grime rapper
Stormzy
also had remarkable set. During the show, he said "Serbia, this is a historical moment, people will look back at this night, and say they witnessed history"! and got uproarious ovations.
Among headliners were pop superstar
Ellie Goulding
and one of the world's most successful DJ,
David Guetta
. Their performances were interspersed with familiar MTV hits that got people dancing, mainly the younger generations . First time in Serbia, Ellie Goulding exhilarated her fans with numbers like "Love Me Like You Do", "Burn" and others , while a great overture before her performance made
Bastille
, pop-rock quartet whose song "Pompeii" became the ultimate festival anthem. A very quality show was held by English indie rockers
The Vaccines
. Although the audience response was not satisfying, they didn't mind it at all and provided a wild and intense performance. They are definitely a band to be heard live. Brilliant
George Clinton
and his
Parliament- Funkadelic
further contributed to the Exit magical atmosphere by serving funky groove rhythms from stage along which no one in the audience couldn't stay still. Those festivalgoers who was never tired of dancing stayed up till dawn and enjoyed sets by
Modestep , Wilkinson , Sigma
and
Gramatik
on the established "After 2 a.m." program.
The Vaccines
When it comes to the smaller scenes ,
Fusion stage
was host to breathtaking performance by Josipa
Lisac
, cult Croatian singer , whose jazz-rock improvisation songs entertained people from 17 to 67.
Kensington
and
My Baby
, Dutch bands also had a really amazing shows, while popular regional acts such as
Urban, Who See, Halka , Borghesia , ZAA
and
Atheist Rap
rocked out in front of mainly local audience . Absolute winners of Fusion stage were two bands from London - punk veterans
Cock Sparrer
and guys from the group
Dub Pistols
. Cock Sparrer smashed the jam-packed stage with the setlist consisted of tracks like "Riot Squad", "Take 'em All", "England Belongs to Me" and other hits, while Dub Pistols effortlessly brought a wild party that has delighted everyone in the audience.
Meanwhile, metal and hard rock fans were headbanging on
Explosive stage
, which saw bands like
Raised Fist, At The Gates, Anti-Flag
and
Paradise Lost
, among others. Many visitors come to EXIT solely because this stage and bands award their loyalty with the best way possible, hard and severe performances. Throwing beer glasses, air guitars, mosh and circle pits were usual thing between audience and I think all metalheads had outstanding time.
Party people took their positions at the largest dancefloor in Europe , EXIT's
Dance Arena
. Quick beats , visually stunning performances , interesting fashion creations and constant dancing were the main characteristics of the place. Acts like
Richie Hawtin , Nicky Romero , Dimitri Vegas & Like Mike, James Zabiela
and
Solomun
concored the stage and the most persistent danced till dawn with
Marco Carola
.
Exit Dance Arena
As I said at the beginning , EXIT never fails in its intent and never disappoints those who visit it. EXIT is a festival which is always great to come back. Dates for the next edition are known (6-9 July) and organizers are promising Summer of Love dedicated to the 50th anniversary of the formation of the hippie movement , which changed the world forever. We can agree this is cool reason to come to Novi Sad next year .
Pics/Review: Nemanja Neskovic / Jelena Dolai, Copyright: britishrock.cc
21.08.2016, 23:58 von Tobias Haslinger



Kommentare
via Facebook
| britishrock
Exit
mit The Prodigy im Line-Up in Novi Sad